This page presents pictures and tributes to the life of Gerard James Peter Kilty, who died peacefully with his family at the St. Margaret's Somerset Hospice on September 18th 2005.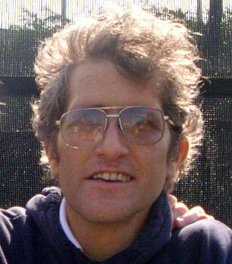 This picture was taken a few months earlier in his mother's garden.
Any person wishing to contribute a picture of, anecdote about or tribute to Gerard, please email James.
---
Jane, Gerard's eldest sister, ran the full 10km run in Yeovil on April 17th 2006 to raise money for The St. Margaret's Somerset Hospice.
Well done Jane: what a marvellous work of love and dedication. Jane raised about £1300. Donations were via Justgiving.com. Thankyou everybody.
---
Jerome cycled with the GOSH Paris to London Cycling Challenge 2006 on 27th July and raised over £1200, exceeding his target of £1000. Congratulations to Jerome for a magnificent achievement!
Gerard went many times to Great Ormond Street Hospital when very young.
---
Jane:
Gerard has always been a part of my life and we have always looked after each other. I will miss him very much, his humour, his acceptance and his faith in life. He was so proud of Jerome and proud to be a Grandpappy. I wish him God speed on his journey and feel great love and deep gratitude to have known him and to have shared some life with him. Like Michael, I think of Gerard every time I hear a bird sing and I know that he is still with me in my heart.
PS Ellie says that he is not here anymore but he is everywhere now!
---
Peter:
Gerard was an especially gifted person. He was so warm, so easy to communicate with, and was a real treasure. He accepted his situation with dignity, courage and a solid commitment to the people close to him. He is an example to all of us. He faced life with great courage, with an infectious cheerfulness, without complaint, and with great personal conviction.
---
Cessair:
Even when he was dying, he could smile, crack a joke or laugh for a while. He loved his Harley Davidson, his son and his grandson. We will never forget him and we will always remember him as a jolly, kind, strong person. So, wherever his soul might fly next, let us wish him a little happiness.
---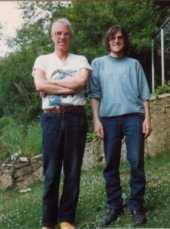 James:
I am proud of Gerard, not just for his fortitude in the face of the many challenges of his life, culminating in the last wave, but for his integrity and honesty of character throughout his life. I saw a purity and innocence of spirit in him as he died, looking into Jerome's eyes with his family around him. Picture taken in 1987 in Godalming.
---
Paulo:
Though as medical professionals we should have the same sympathy for all our patients, it is inevitable that we 'click' or have more feeling for some and their families. I have a bad memory generally, but there are few patients and their families I will never be able to forget. Gerard is one of those I will always remember his dignity in all the episodes of this sad story.
---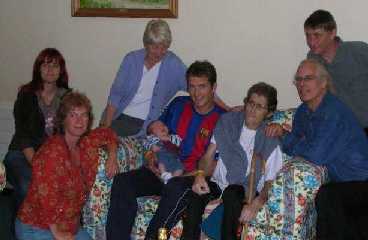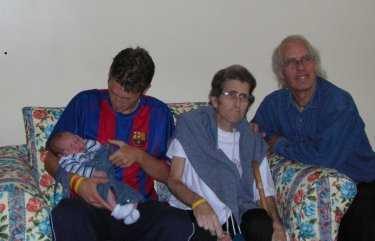 ---
Gerard's last words
Jane took down Gerard's last spoken words as his ability to give form to his voice failed.
To my Grandson Ellis
These are just a few words for you as I won't be around when you are growing up.
Stay close to your father and be a good boy.
Look after your health and make sure you enjoy your life.
Take one day as it comes and make the most of it as you never know whether the next one will be the last.
I was so very pleased to meet you. You are a fine looking grandson and I am proud to be your Grandpappy.
To Jerome my son
It was nice to meet my grandson when you brought him over. You look the spitting image of him.
I obviously wish I had more time with both him and you. Unfortunately it doesn't look like it.
Words are never enough. I will never get enough words to say in the time.
Dad
---
Family Ties

I am the smoke that waters your eyes
I am the clouds that blister your skies
I am the wind that whistles through your hair
I am the burden that you bear

I am the sweet smelling rose in your flower bed
I am the spinning thoughts in your head
I am the chopping current on the sea
I am the scary sounds that make you flee

I am the ghostly bare back rider
I am the rope that made you tie her
I am the wild thing inside
I am beauty vast and wide

I am the sunrise I am the sunset
I am the promise never met
When the darkness falls you call
I come and together we walk forward
Our ancestral work done
A poem by Cassie, Gerard's youngest sister, when aged 11 years 10 months March 2006.
Family Gathering
There was a family gathering on 18-19 September 2015 to remember and celebrate together Gerard's life and play a game of darts in his memory. Gerard had played in many competitions (even at world class level) and won many trophies for the most 180s and the highest out scores. Our throwing and scores were abysmal in comparison with his accomplishments and girls versus boys was 1-1!